I made brownie bottom cupcakes today. Actually, I made two batches, since the first batch didn't quite come out the way I wanted to. The second didn't quite do what I wanted either, but they taste delicious and they're really fun to make, so I'm posting them anyway.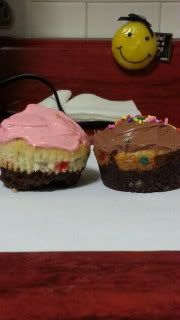 (
brownie bottom cupcakes
Collapse
)
These were definitely somewhat experimental, but perfect for my nephew's 1st birthday party tomorrow. Mostly, I wanted to see how they came out so I could try them with from-scratch cake and brownie mix.
I love brownies. I love cupcakes. Sometimes, I like them both at the same time.
These are the absolute best chocolate cupcakes! Super moist while being light and fluffy at the same time. The texture is absolutely perfect with a great chocolate flavor. Topped with a silky chocolate buttercream. I've been making these to rave reviews for years and finally sharing the recipe now!
Recipe and more at
The Alchemist.
My new recipe, inspired by the famous cocktail Bacardi, with rum, lime and a grenatine flavoured frosting.
Enjoy

BACARDI CUPCAKES


Current Mood:

pleased
I was bouncing ideas off a coworker, who said that subbing a can of soda for the eggs/oil/water with a box of cake mix makes it really fluffy and delicious. As she said this, I realized I had a box of yellow cake mix and that I had to go to the store for a few other items, anyway.
As it turns out, 1 box of yellow cake mix + 1 can of Sprite + Betty Crocker Whipped Cream Frosting makes
(
Twinkie Cupcakes
Collapse
)
I'm going to my boyfriend's cousin's wedding shower later this evening. I knew it was this weekend, but up until yesterday afternoon, I had completely forgotten that it was potluck/that I had volunteered to bake something. Since it was so last minute, I wanted to work with stuff I already had, even if it wasn't from scratch.
Does anyone know how to use chocolate cake mix to make dark chocolate cupcakes?