I don't believe I actually introduced myself in my last post so here's the stats:

Name: Meaghan
Age: Early 20s
Location: Either on the US west coast (home) or east coast (school) depending on the time of year.
Cupcake History: I have memories of my mother putting homemade cupcakes in my lunch box in elementary school. She is an incredible cook and all the other kids would inevitably be jealous of my homebaked goods. I often used this to my advantage to trade for their store bought deserts which were never allowed in my house, but that's beside the point. I have since seen the error in my ways and will always have fond memories of the cupcakes I had when I was little.
Why I like Cupcakes: Cupcakes are delicious. And strangely adorable. And you feel less guilty eating a cupcake than a slice of cake.

Below is the world's most delicious white cupcakes. They are light and fluffy and have the most beautiful color. They're also pretty simple to make. I've also included a recipe for a buttercream frosting that doesn't require raw eggs (always a plus in my opinion).

The pictures are of the batch I made yesterday. I haven't made cupcakes in many many years and I can't remember if I've ever frosted one with attention to anything but how much frosting I could fit on the cupcake (quite a lot, it seemed. I believe I made my seven-year-old self ill) so please excuse the poor frosting job and try out the recipe anyway, it's to die for.

Here's a teaser, hope you take a look at the rest!




White Velvet Butter Cake - Modified for Cupcakes
Ingredients
- 4 liquid oz of egg whites (around 4 large egg whites)
- 1 cup milk
- 2 1/4 teaspoons vanilla
- 3 cups sifted cake flour (important! make sure you use cake flour and not all-purpose flour)
- 1 1/2 cups sugar
- 1 tablespoon + 1 teaspoon baking powder
- 1/2 teaspoon salt
- 12 tablespoons (1.5 sticks) unsalted butter, softened

Directions
Preheat oven to 350F and fill two 12-hole cupcake trays with cupcake wrappers. In a medium bowl, combine egg whites, vanilla and 1/4 cup milk.

In a large mixing bowl, combine cake flour, sugar, baking powder and salt and mix together to blend. Add the butter and remaining 3/4 cup milk. Mix on low speed until dry ingredients are moistened. Increase to medium speed (high if using a hand mixer) for 1.5 minutes. Then add the egg, vanilla and milk mixture in three equal parts, beating for 20 seconds between additions.

Pour the batter into prepared cupcake trays. Try to fill each cake with an equal amount of batter. Try using an ice cream scoop to help make scoops of batter even. Each cupcake wrapper will be about 2/3-3/4 full. Place trays in the oven for 15-20 minutes, remove when golden yellow and a toothpick stuck in the center comes out clean. Let cool for 10 minutes in the pan, then place on a cooling rack. Let cool completely before frosting.

Frosting Recipe
- 16oz (2 sticks) unsalted butter (room temperature)
- 4 cups powdered sugar
- 1 tablespoon vanilla
- 1 tablespoon milk

Frosting Directions
Combine all ingredients into a large mixing bowl and beat until frosting is spreadable but still firm. If you over beat it, it will not hold its shape. Apply frosting with a pastry bag and tip, or just with a spatula.

Makes 24 cupcakes





Fresh out of the oven. These freeze incredibly well, so I'm going to store 12 of them in an airtight container in the freezer and frost them later. I can only eat so many cupcakes at a time.




I tried a couple different tips for frosting these, as I hadn't done any cupcake frosting in who-knows-how long. Everything I'd read said it was easier for new decorators to use pastry bags and tips instead of a spatula, but I decided to try one with just a offset spatula - the one on the lower left hand corner. I like it, but that might only be because it ended up with the most frosting. :)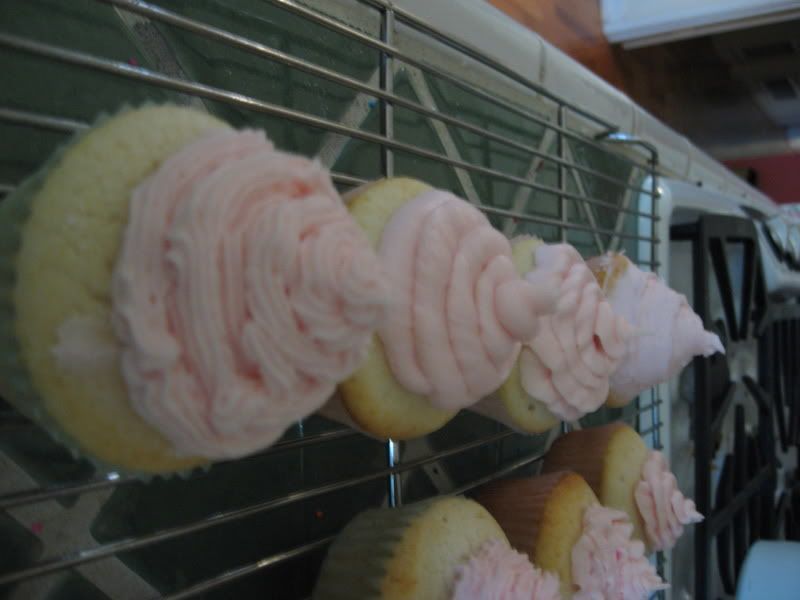 Another close up shot of my frosting efforts. The frosting was a little softer than I would have liked while I was piping it, and I don't have one of those nifty cake frosting trays that spins around for you. Oh well, still could have been worse for a first effort.




Mmmm, the best part of cupcakes. Eating them! This is the best recipe I've ever used, it's so light and fluffy and the vanilla really adds a great flavor. Also, using only egg whites, the only color in the whole cake comes from the little bit of vanilla so they are a beautiful off white. Enjoy!